Wines Tasted/Consumed: 68
It was another early start with our first winemaker at 9am. Oh so tired.....but I'm in France on a mission. And so far it's been to drink my way through Burgundy.
First stop of the day was Jean Jacque Girard in Beaune. Yay, another early call and I'm still trying to shake off the night before. But Jean Jacque was truly a delightful visit. Lots of great wines and good information. Girard is one of the oldest domaines in Savigny and dates back to the 1400's. He has the papers to prove that the vines belong to his family that date back from before the French Revolution. I really started getting curious about the history of Burgundy while spending time there and started asking the winemakers about how long the vines have been in the family. We met Jean Jacque's son who is learning the trade and will eventually take over for his Dad. I don't know about the rest of you out there who are reading it, but how great would it be to inherit a Domaine???
Before I go on another tangent about their cloning process, I really want to talk about all the wines we had. There were 12 all together and they had a common thread of being elegant and very approachable. Probably my favorite of the Pinot's was a premier cru from
Les Lavieres, but the prize of the whites was a good ole Village that was made from vines his grandmother planted. I even wrote "do a little dance, have a little fun" on my notes. At a certain point, you just can't take professional notes, but just go with the overall experience.

We were there for quite a while taking our time to taste even though we had a full day ahead of us, but sometimes it just feels good to sit and chill. Plus we tasted in his home instead of in a freezing cold cellar. The conversation just flowed and we had an incredible lesson in grafting. Every year, they take 1500 buds from the vines and take them to a specialist who grafts them onto root stock. Then they plant the new roots on the south slope side of the Alps and keep them there for a year before bringing it back to plan in their vineyards. Now that's love.

Before we finally shuffled off, I got to watch my first small production bottling line in practice. Here's some video:



After a few more minutes of chit chat we were off to our next stop, Paul Garaudet in Monthelie. And from what Stuart was saying about this producer, it was going to be a lot of fun. He's know for his grand personality and presence. We were also meeting back up with Scott and another group of people from the States to taste Garaudet's wines. It was nice to have a few more people to taste with after spending almost a week with just the six of us. We started off tasting the 06 whites, but then he was gracious enough to pour us the 05's as well. It went on into the reds and he kept opening not only 2005, but 2004. Most of the fun we had with the winemakers is when they were really into opening various vintages. It was such a great way to learn about how vintage means EVERYTHING in Burgundy. My favorite of his was a 2006 blanc from Merssault "Forges". It was also great to try another style of Pommard. Compared to Billard-Gonnet, Paul's was the smoothest and most elegant style. Winemaking in Monthelie is known for their high level of quality and it showed at this Domaine. The other star was his pinot noir from the vineyard of Les Duresses in Monthelie.
I'm not sure if I mentioned this earlier, but according to our itinerary, we were meeting with 5 different producers today. FIVE! And we were only two deep and according to my stomach it was well past lunch. I think once all of us realized it we quickly made our goodbyes and flew off to Chambolle in the Cote de Nuit for what would be one of the highlights of the trip.
Hudelot-Noellat owns some of the most prestigious lands in all of Burgundy. These are the vineyards that people pay thousands of dollars to buy the wines. This land is what grapes are to Burgundy as what Black Sabbath is to heavy metal. To be honest, I didn't really have a clue as to the greatness we were about to taste. I honestly felt that I wasn't worthy not having payed my dues yet in the wine world, but the look on my fellow travelers' faces told me how much this stop was going to rule.
We met the young winemaker Vincent who took us down to the cellars. All of the wines we were going to taste were still in the barrel and he had to mix each one carefully with the right balance of juice from the new oak and the old oak. We started off with their entry level Bourgogne Rouge and their Chambolle Village, then each wine after just was a tasting privilege. Not that their entry level or village was something to spit out. We also tried their premier cru's: from Nuit-Saint-George- Aux Murgers, Vougeot- Le Petit Vougeot, Chambolle-Musigny- Les Charmes, Vosne-Romanee- Les Suchots & Aux Malconsorts. Then there were the Grand Cru's of Romanee Saint-Vivant & Richebourg. But one of my favorites of the day actually came from a small premier cru located north of Echezeaux called Les Beau Monts. Let me just say...holy crap, that was amazing! My notes just read in all caps DO NOT SPIT OUT. There was no way I could take detailed notes here. The Clos Vougeot I tasted said "knees weak", the Romanee Saint-Vivant "can't even put into words". This was serious wine crazy goodness. The juice was so sacred we couldn't even dump the leftovers (if there were any) into the spittoon...it went back into the barrels.
Vincent lead us back upstairs so Stuart and Nate could talk business with Mrs. Hudelot-Noellat and I was so amped on good juice I was dancing around the showroom, waiting for my chance to ask if I could purchase some bottles. I think Mrs. Hudelot-Noellat was so entranced by my enthusiasm of her wines that she gave me a great deal on two bottles, a 2000 Romanee Saint-Vivant and a 1997 Nuit-Saint-George, which was drank not too long after my return to the states. I took a great deal of pictures here:
I honestly wouldn't want to be the next producer on our list, but Herve Sigaut (also in Chambolle) it was. Herve and his wife welcomed us in total friendly Burgundian fashion and brought us into their home and off we were to round 4. He too had a great deal of premier cru's in his stock as well. We tried the 06
Les Carrières, which was awesome, bu then had the 06 Les Fuées and was totally floored by the earth, juiciness and spice. We also got to try the 04 from this
land and had a surprise bottle at the end, which turned out to be a 1987. I guessed the area, but not the vintage...Burgundy was actually starting to make sense to me. It only took 4 days and about 200 wines. There was another wine we tasted from
Les Chatelots that made me write "A Chugger". After all the reds, Herve pulled out a few whites and I was excited to see Les Champ Gain! Yay! If you haven't tried a wine from this small patch of land in Puligny-Montrachet, go out and get a bottle...NOW. As you read this I am on a mission to get some in at Heights Chateau otherwise, you will see me cry a great deal. Herve's wife was present the whole time and it was clear that she made a great deal of decisions concerning the wines. Herve even told us that it was her who got him to start making his wines so elegant. They also explained how they try and limit all fining and work with the lunar cycle. It was really nice to see so many producers working with nature instead of against it.

By the time we left it was already a bit past dusk and we still had ONE MORE stop. Eeeek. At this point of the day we had already tasted 58 wines (which I'm coming to understand isn't really a lot on these trips), but Stuart consoled me and said the next stop would only be a few more. So last, but not least, we visited Domaine Guillard in Gevrey-Chambertain. It was a very interesting visit since this is the first producer we met with who had their operation inside what looked like a store front in the village, not where the vineyards were. When you walked in, there was a little mud room and then there were large stainless steel tanks in the larger room (it honestly looked about the same size as my Brooklyn studio apt). He ran a very old school operation with bottling be done by hand and without much help. The Bayfield guys were under the impression his sister helped him quite a bit and there were canned veggies and beans scattered around showing her mark there. I was totally enamored with Guillard's quirkiness and felt inspired to take a great deal of pictures in his cellar....which is what I did.



On the way out to the car, I saw this incredibly huge dog and made Mike take pictures of me trying to pet him/her. I mean he/she was gigantic. I've never seen one of its kind before and if anyone knows what breed this thing is, please let me know. And now...off to dinner!!!!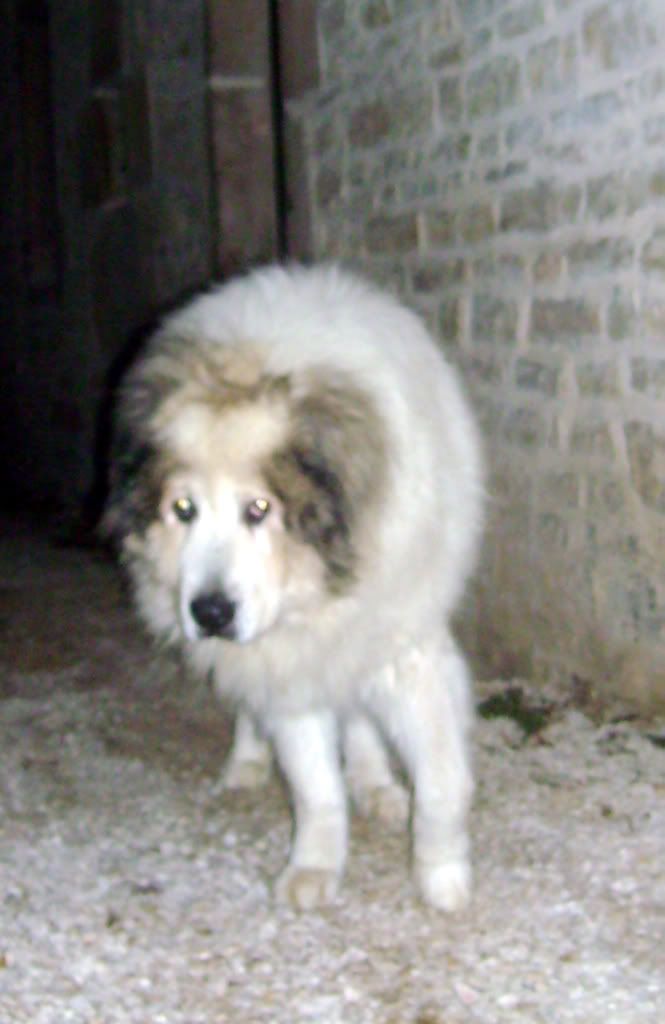 We were all looking forward to dinner tonight for two reasons, one being that we hadn't stopped tasting wine all day and the other being that it was one of the top restaurants in Burgundy. Three stars according to Michelin...Negative stars if you are vegetarian. http://www.lameloise.fr/commun/pages/restaurant.asp
I knew that going into France it was going to be culinary challenging for me given the fact I don't eat anything with a face. But I was getting into the groove of fine dinning as a veg and after that glorious meal I had the night before at La Montrachet, I was eager to test the chef's skills. I told the waiter about my dietary issues and asked that the chef take liberties and what I got was a plate of cold pasta with no sauce and a side of Parmesan cheese (which I think could have been from a can). Oh no he didn't! It was the worst/most expensive meal I had the whole time in France. At least the guys enjoyed their meals immensely, cause if it was up to me....I would have gone back into the kitchen and yelled at the chef for charging me what he charged and giving me what he did. And not only was my main dish poop, but we were there for hours. When we finally got the check after 8 courses, the credit card machine was down and we had to leave one by one to take Euros out of the ATM a block away. Bob had a bunch of Francs on him and we tried to make light of the situation by trying to pay the bill with them which got a bit of a chuckle. In the end, we were there for 5 hours and left with jars of Lameloise jam. Thanks guys for the free jam. No, really. If I had been drinking bourbon instead of wine, the front of the hotel would have been jammed.

Back to the hotel for our alloted 5 hours of sleep before rolling over and trying more wine.